"It takes nothing from a human to be kind to an animal."
Oliver and Friends is a 501(c)3 Nonprofit farm animal rescue and sanctuary located in Luther, Oklahoma. We advocate for ALL animals and provide education about compassionate plant-based living. We rescue, rehabilitate, and offer lifelong homes to many animals, and occasionally place animals for private adoption to approved homes. We are committed to inspiring change in the way society views and treats "farm" animals, and we work to help people see that animals traditionally viewed as "food" are just as unique, intelligent, and sensitive as dogs and cats. We work tirelessly to achieve our goals, and we need the support of our community and from kind and caring people like you. All donations are tax deductible. We offer monthly public fundraising events as well as private tours, and group events, by appointment. Follow us on Facebook at Oliver and Friends Farm Rescue and Sanctuary.
Remembering Oliver: Our Namesake and Precious Friend
Anyone who has been given the absolute privilege to know Oliver knows just how special he was. Oliver was an incredible, silly, selfie-loving soul who leaves a great void behind him. He loved Dandies Vegan Marshmallows, giving sloppy kisses and greeting every car that came through the gate. Oliver also loved all people and other animals alike! He could make friends with just about anyone , and would always put on a show for our new volunteers. Unfortunately, Oliver suffered from degenerative joint disease. While we provided him with the best possible care and comfort, he let us know he was ready to cross the rainbow bridge on April 3, 2019.
We will forever celebrate his life and spirit as we move forward with heavy hearts toward building a brighter future for animals.
If you would like to donate to assist the sanctuary, you can do so via Venmo or Paypal on our donations page.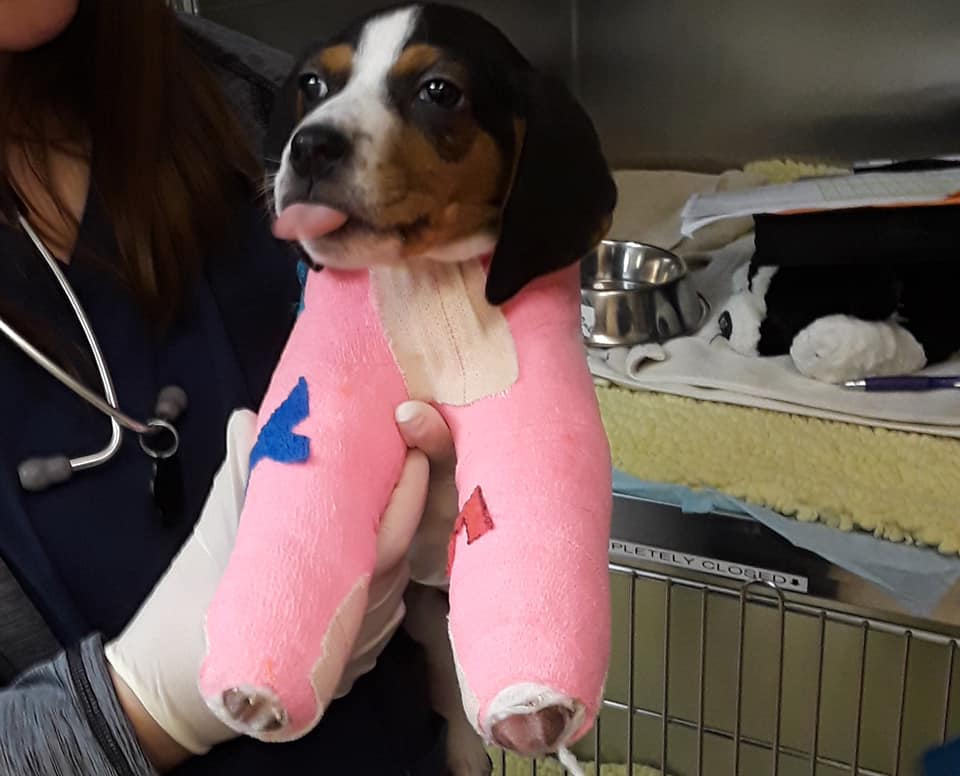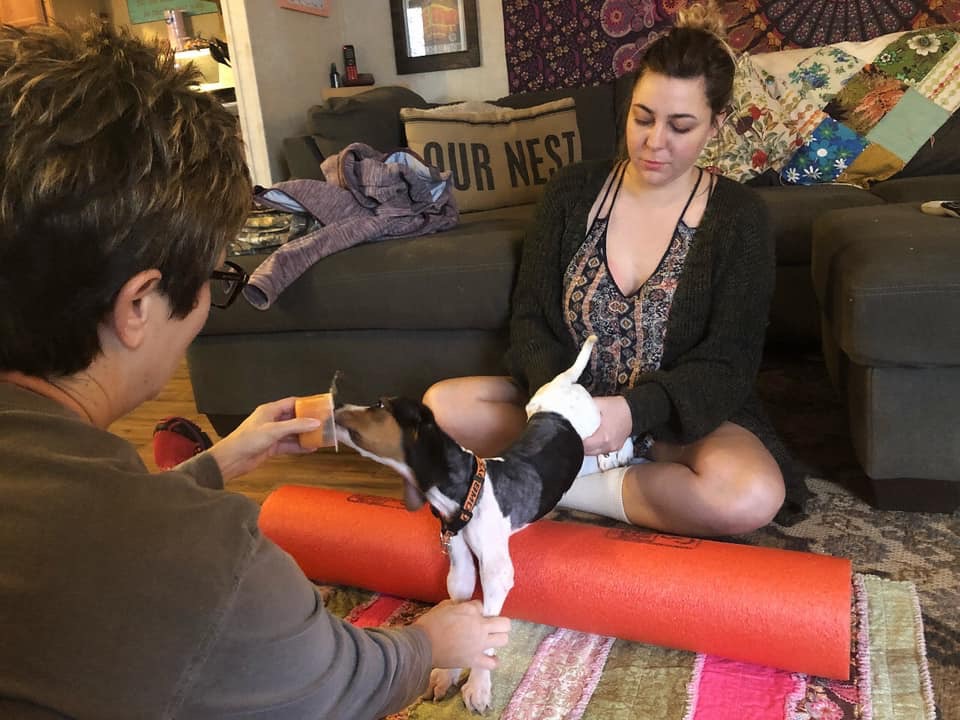 Milo The Miracle
Milo was born with a congenital defect known as bilateral luxated elbows, meaning his paws were upside down! He is on the long road to recovery, but this little guy has an unbreakable spirit! The awesome folks at Oklahoma State University curated a treatment plan for little Milo, and continue to partner with Great Plains Veterinary Services to care for the animals at Oliver & Friends. Milo had surgery to place pins in his elbows that held them in the correct position while they healed. Throughout that time, he needed hard casts and limited movement for 3 full weeks—not easy for an active puppy! Fortunately, the pins and hard casts have been removed. He will spend a few more days in the hospital at Oklahoma State University before continuing physical therapy and rehab with Dr. Summer Heatly at Great Plains Veterinary Services.
If you want to read more about Milo and his amazing story, check out these online publications:
People | News Channel 6 | abc7news | 5 News| Oklahoma State University
Milo is finally home!!! If you want to learn more about his treatment plan, you can check out this article from Oklahoma State University.
If you would like to donate to Milo's treatment costs, you can do so via PayPal or Venmo.
Our Hero Heatly
**This slideshow contains graphic imagery**
Heatly was surrendered to Oliver and Friends by his previous owner in Kansas. His owner realized he had frost bite, recognized he was unable to provide the best care and immediately contacted us. He even drove 2.5 hours for the surrender! This sweet little goat was missing one of his hooves, both ears and suffered significant damage to one of his remaining hooves (which may require amputation). He was rushed to Great Plains Veterinary Services where he received immediate care. Dr. Summer Heatly, whom he is named after, concluded he will need the assistance of prostheses for both hind legs. Heatly has such a sweet spirit, and doesn't let his injuries slow him down!
For more information on Heatly check out these articles from The Wichita Eagle and News Channel 4.
Courageous Colorado
Colorado was rescued alongside 19 chickens when a factory farm went bankrupt. The bankruptcy meant that hundreds of chickens would starve to death in their already horrific living conditions. We stepped in to rescue as many lives as possible, thanks to the generosity of our community's donations. Colorado is a Cornish Cross hen, which are expected to be large enough to slaughter at 5-9 weeks of age. They are bred to grow at an extremely unnatural pace, weighing up to 10 pounds at that age.
Because Colorado was meant to gain bulk rapidly, she has gained enough weight to lose the function of her legs. They physically cannot hold her up at this time. She has been placed on a special diet by the incredible Dr. Heatly of Great Plains Veterinary Services, and will hopefully regain the ability to walk after losing some weight. In the meantime, a wheelchair has been constructed for her daily use! She is so happy to move freely and interact with the other residents on the farm.
If you would like to keep up with Colorado, check out these articles:
Oklahoma News Channel 4 | News 4 San Antonio | It's A Southern Thing |